FREE OF
PARABEN
GLUTEN
SULFATE
MINERAL OIL
NUT OIL

VITAMIN A, B, C, D, AND E
SIGNATURE SPRAY TAN
8+ hour set time
LASTS UP TO 10 dAYS
A CUSTOMIZED FULL BODY (OR HALF BODY) SPRAY TAN THAT IS PERSONALIZED JUST FOR YOU. LEAVING YOU ANYWHERE FROM A SUN-KISSED GLOW TO A RADIANT DEEP BRONZE. YOUR CHOICE.
$59
EXPRESS TAN
1-5 HOUR set time
LASTS UP TO 8 DAYS
IN A RUSH? DON'T SWEAT IT…LITERALLY. OUR RAPID RELEASE FORMULA IS PERFECT FOR YOU. After consultation, your Glow Pro will advise you when to shower to achieve your desired color.
$69
TAN AF
8+ hour set time
lasts up to 10 days
for the babes that can handle their $HIT. Not for the "subtle glow" girl. This new ultra dark formula will rock your world!
$75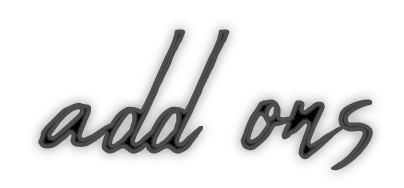 POWDER
A full body hand applied powder is done by your Glow Pro after your spray tan. This will neutralize the odor of the tan, as well as ensure that it stays in place throughout the night/ day. We highly recommend this with our 8 hour set especially if you will be sleeping in this over night.
+$10
TONER
toner is a ph balancing primer that is applied prior to your tanning session. toner will gently exfoliate to remove any excess oil OR other daily build up that could still be left over AFTER YOUR shower. IT also adds back moisture to the skin. balancing the skin's ph is important for an even application, Ensuring that YOUR tan will MAINTAIN ITS color. 
+$5
BASIC BABE
INCLUDES TONER AND DRYING POWDER
EXPIRES IN 1 YEAR. SAVINGS OF 20%
SIGNATURE SPRAY TANS
3 TANS    $178
6 TANS    $355
9 TANS    $533
EXPRESS TANS
3 TANS    $201
6 TANS    $403
9 TANS    $604
GLOWING BRIDE
2 SIGNATURE AIRBRUSH TANS, DRYING POWDER AND TONER
    $118